New Floridian - July 2006
Drama Queen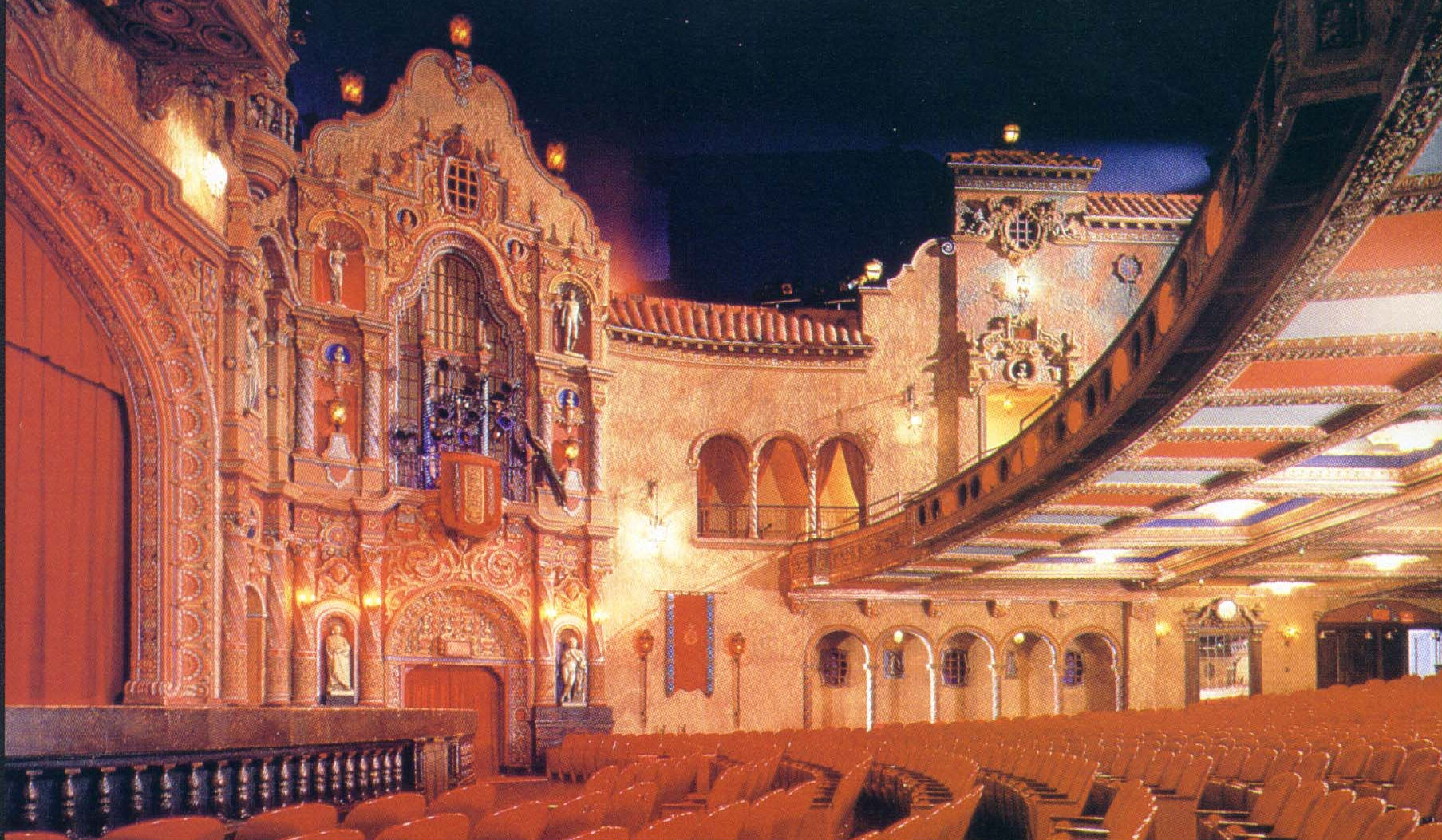 The modern Cineplex is not inherently evil. As gigantic fun houses go, it offers some useful features. It is conveniently located. It shows 10, 16, sometimes even 24 films simultaneously. And it features steep, stadium-style seating arrangements with gargantuan cup holders, so the head of the person in front of you won't block your view as you quaff massive quantities of semi-flat soda.
The thing is: It has no soul.
There was a time, not so long ago, when the movie theatre was a more elegant experience. The lobby was neither food court nor video arcade, but an ornate hall overflowing with well-dressed patrons who mingled during a night on the town. This was a place where kids, some having collected enough RC Cola caps for discount admission, gathered in ecstatic flocks for afternoon matinees.
Going to the movie theatre was an event. And it still is at the Tampa Theatre in the heart of downtown Tampa. Opening night was front-page news in all the Tampa dailies back in 1926. And why not? The Tampa Theatre was one of the country's premier movie palaces, built at a staggering cost of $1.2 million by John Eberson, a renowned theatre architect of the era.
One of the theatre's staffers jokingly dubbed its décor "Mediterranean junkyard" and there is more than a dab of validity to the moniker. The interior of the old show hall borrows elements from a multitude of popular styles, including Greek revival, Baroque, Italian Renaissance, Tudor and Byzantine. The scene is at once overwhelming and unquestionably magnificent.
A legion of gargoyles grimace and gape, cherubs frolic amid classic sculptures of Julius Caesar, Christopher Columbus and all manner of saints, gods and goddesses surrounded by 16th-Century antiques. Fair-weather clouds swirl above in a blue-pink sky that fades to blue-black. Today, as always, movie fans munch popcorn as Eberson's enchanting eternal stars twinkle overhead.
You can thank the concerned citizens of Tampa for all of this. The theatre enjoyed decades of success as one of downtown's grand dames, but as more and more people left the city for booming suburban sprawl, she seemed doomed for a date with the wrecking ball.
Bill Schultz, who served as assistant manager of the Tampa Theatre from 1950 until the end of 1952, remembers when "the streets were so crowded at night, you couldn't move. You almost had to walk out on the curb. We would close down between 11:00 and midnight, and folks could go grab a bite to eat very easily. We had a lot of hotels downtown at that time, and they had cocktail lounges and that sort of thing. Some people would leave the theatre and go dancing."
Then came the malls with their multiplexes. The Tampa Theatre and its breed were all but forgotten and left to decay. Concerned citizens, fearful that Tampa's classic odeum would meet the same sad fate as so many other beautiful movie houses, stepped in, formed committees and made plans. The city assumed the leases in 1973 to rescue the property, and the Arts Council of Hillsborough County took on the task of programming and management.
Leap forward to 2006: The theatre – resplendent with $2 million worth of ongoing restorations – hosts about 650 events each year, from classic and first-run films to concerts to special events, even field trips and weddings. Those who are booked to speak or perform at the theatre are fascinated by its charm.
"I was struck not only by the obvious beauty and history of the theatre, but by the dedication of the people who keep this gorgeous edifice operating day after day, and by the volunteers working hard, as well, to support the Tampa," said Ross Melnick, co-author of Cinema Treasures. He recently visited the site to speak about the theatre's history and the role of the motion picture theatre in relation to other media.
"Walking around downtown, and having seen postcards of the theatre in its heyday, I was shocked by how little of the old downtown was left," he said. "The building is a time capsule from another era and an important landmark not only for the city of Tampa and the state of Florida, but for movie theatre and architecture lovers everywhere."
The Tampa Theatre is one of the most well used venues of its kind in the country and its patronage cuts a swath across a marketer's demographic chart, according to Tara Schroeder, the theatre's community relations manager. It's particularly heartwarming, she said, when fandom becomes multigenerational. "It's so sweet to see grandmothers; moms and kids show up to see "The Wizard of Oz" wearing matching ruby slippers.
Coming September 16th is the theatre's sixth annual wine event and this one will be particularly poignant as it falls on the eve of the theatre's 80th birthday. This year, the movie-themed affair is called "The Grape Gatsby" (previous designations include "Raiders of the Lost Cork" and "Gone with the Wine"). Attendees are encouraged to arrive dressed as characters from the film. Otherwise, elegant, casual attire is requested.
Admission costs range from $50 to $150, depending on the seminars and tastings included in the package. Participants will enjoy the ostentatious atmosphere of downtown Tampa's grandest painted lady.
"I saw 'Casablanca' here not too long ago," said Schroeder, "and I couldn't help thinking about who might have been sitting in my seat, watching it during its first run."
She may not have to wonder for long. The Tampa Theatre Stories Project is an ongoing mission to chronicle the memories of its patrons throughout the theatre's 80-year history. A vast collection of these stories is available online at TampaTheatre.org and visitors are welcome to leave their own stories.
Memories of the Tampa Theatre include Charleston Dance contests that yielded $3 prizes – enough for a week's worth of groceries in the 1920s; a fateful night in December of 1941 when a young soldier took the stage at intermission, calmly instructing any military personnel in attendance to head back to their posts; innumerable tales of first dates, first kisses in the balcony, marriage proposals … and a string of stories that just keep coming.
"Movie theater history and preservation is important…" said Melnick, "because movie theaters are not just buildings; they are vessels of memories of nights out with the family, or the first time one saw 'To Kill a Mockingbird' or 'Star Wars.' Careers have been launched at the movie theater, relationships consecrated and family bonds strengthened at these public spaces."
Sure, you can catch the latest blockbuster at your local multiplex, and watch Tom Cruise dodge missiles on foot, the explosions booming from a zillion speakers buried in sleek walls built to code five minutes ago. It's clean, modern, state-of-the-art and costs about $10.
But for $7, plus the cost of a trip downtown, you get soul.
And Speaking of Soul

More than a few restless ones are said to wander the mezzanine. Foster "Fink" Finley, whose career as a projectionist spanned some 30-plus years, is the theatre's most celebrated.

Bill Schultz remembers him well. The two worked side by side for three years in the 1950s. "He was a very nice person. Quiet," Schultz recalled. "He was not married, he had no family and he would rather have been in that theatre than anywhere else in the world."

Schultz said that half the time he saw Fink; his old colleague wasn't even on duty, just hanging around, chatting with the guys in the booth, or visiting with manager O.G. Finley. Fink stayed on at the theatre even after O.G. left for a job across the street at the Florida Theatre. He died in the 1960s, and many think his spirit is still on the job.

"He just loved that theatre, it was really his home," Schultz said. "His apartment was just the place where he slept … I have always believed that if it were possible for him to be there, he would be. And, frankly, I believe he is."

Organic Experience

Many stars have come and gone at the Tampa Theatre, but the one constant presence (with due respect to the glittering gems on the ceiling) is the Mighty Wurlitzer Organ. Because the Tampa Theatre was built before "talkies," this magical one-man orchestra was a vital component to the movie-watching experience of the day. The organ would rise dramatically from the stage before each show and nearly 1,000 pipes would accompany the performers on screen. These days, volunteers from the Central Florida Theater Organ Society not only help keep the Mighty Wurlitzer in top form, but delight audiences with pre-show entertainment before most films.
Photo courtesy of George Cott/Chroma Inc.