New Floridian - June 2006
Nostalgia with Fries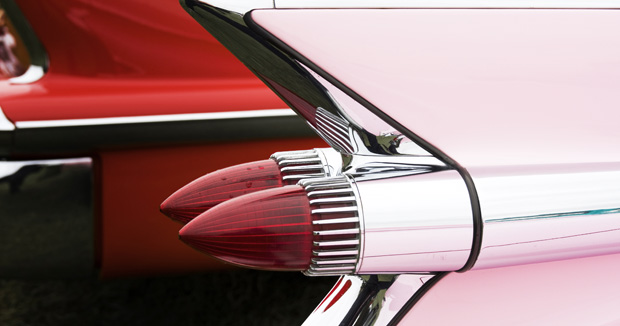 It's Friday night in St. Petersburg, and in a parking lot off 49th Street folks are drinking beer and talking cars. Behind then, an iconic sign towers, its flaming colors of red, orange and yellow reflected in a legion of gleaming fenders that flash and glint like a school of barracuda on an asphalt reef.
Tendrils of music beckon — Chuck Berry, Elvis, Dion, chart-toppers when many of the cars out front rolled off the assembly line — along with the heady aroma of crisp, hot onion rings in paper-lined baskets and sizzling burgers piled high with the works.
Out front, the Downshifters of Brooklyn are hanging strong and having a few laughs, just like they did in 1959.
"Back then," said Downshifters leader Greg Feminella, his image reflected in the glossy black hood of the '51 Ford Custom he calls Duke of Earl, "we used to take our cars, go out for a cruise, and then come back and hang out on the corner and listen to music. Hanging out is what we do at Biff's."
This 55-year-old has no trouble summarizing – or laughing at – his reality. "Most of us are just living in the past."
This works out nicely, since the 49th Street Biff-Burger is something of a museum itself, a living, breathing relic of the era in which modern fast-food establishments were born. The local Biff's is the last remnant of a fast-food empire that encompassed more than 800 locations in 1962, stretching from South Florida to Toronto, Ontario.
A Hometown Operation
St. Pete is an appropriate place for the last of Biffkind, as the company was Pinellas-based in its heyday. "Biff" is actually an acronym — Best In Fast Food. Many chain restaurants sprung up in the '50s and '60s, an era that saw the earliest forays into prefabricated architecture. Biff-Burger franchises were shipped from Florida to new locations and assembled on-site. The company's "Port-A-Unit" building was presumably a strong selling point. Per the brochure, entrepreneurs could have their stores up and running within six weeks, catering to walk- and drive-up customers who would eat in their cars or at outdoor seating areas.
Biff-Burger's "roto-broiler" technique – a decidedly Jetsonesque designation – was cutting edge, cooking both sides of the burger simultaneously for a flavor its proponents deemed far superior to the fried burgers they'd find elsewhere. The machine could reportedly turn out 500 evenly broiled burgers each hour, their drippings captured by buns toasting in a chamber below. Once cooked, the meat was dipped in Biff's beloved special sauce. Recipes professing to duplicate it can be found online, but in St. Pete you can taste the real thing.
"It's the same one that all the old Biffs' used to use," said Troy Musser, general manager of the St. Pete restaurant. "It's probably easy to guess what's in it but precise amounts are what people ask about." Officially, that information is classified, though Musser does sell the stuff by the gallon for $14.95. He has quite a few regular buyers.
Musser's dad, George, purchased the fading franchise back in 1982, a time when many had already been bought out by other chains or bulldozed. The burgeoning entrepreneur came to warmer climes from Colorado on the prowl for a nightclub or a beach bar, but couldn't find any venues to fit the bill. "He ended up buying a burger joint," says Troy, "and kind of made it into a nightclub."
Right from the very beginning, the elder Musser saw the potential. "He wanted to make it a place where people wouldn't just eat, but hang out." It started out with carhops on roller skates, but the idea quickly became a victim of its own popularity, lasting about a year. "We were so busy it got to a point where it became dangerous."
Biff's shows its age some, but most patrons look right past the wrinkles and worn spots. They see the place as a time capsule, from the pitched "W" design of the roof to the star atop its aging sign. Once a homing beacon for modern diners in a growing America, it beams them in with retro allure.
"It's very nostalgic," said Norm Dicks, a maintenance worker for the city of Tarpon Springs. "Just like the old burger joints that people used to go to." You'll find him there, along with his custom 2004 Harley-Davidson Deuce, every Wednesday and Saturday night. Wife Sue, a deputy, rides with him on Saturdays, but she disdains the "bitch seat" for a hog of her own, a 2004 Fatboy. "I call it a Fatgirl," she laughed.
The couple said they mix regularly with doctors, lawyers, mechanics, trades people, you name it. "It's a great cross section, very diverse."
Bike nights get crowded but remain low-key and extremely family-oriented. "You see all kinds of kids there. The little ones love the bikes," she said. "Everyone there is so mellow and well-behaved. The staff is super-friendly … and I've never waited more than 15 minutes for my food."
The Downshifters' Feminella enjoys the camaraderie and the car talk. "We're all just car enthusiasts. It doesn't really matter what you've got. In that front lot every Friday night, every car is at least 20 years old. It's like being able to go to a museum while you grab a burger."
Back inside, as children dart between tables and cheery waitresses deftly maneuver four little girls – sisters and cousins – stake out spots on the dance floor to battle for hula-hoop supremacy.
Enjoying the spectacle, Shirley Durfee is neither car buff nor biker chick, but proud grandmother of Sarah, 9; Amy and Caroline, 8; and Georgia, 6. "What I like the most is the '60s music and the atmosphere. I sit there and sing the oldies all through my meal."
She and husband George moved here from Maine and always bring their out-of-town guests to Biff-Burger. "I haven't hula-hooped in 50 years, but this place just takes us back … makes us feel young again. If my husband could do the jitterbug, we'd be here all night."