SexIs - December 14, 2010
Keith Haring: Art World Antihero, Enduring Activist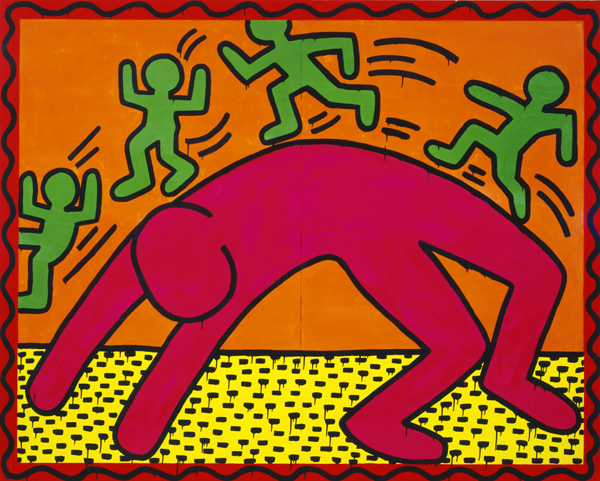 It's been 20 years since artist provacateur Keith Haring passed away; a pioneer for AIDS activism, who himself succumbed to the disease. The imagery he left behind is a catalog of both innocent delight and quirky, carnal wit. The world was his canvas: From the sidewalks of New York City to the human body, nothing was safe and everything was sacred.
Art as Epiphany
In the early '80s, I had a brief period of musical Anglophilia. Nothing, it seemed, was allowed near my turntable or tape deck unless it was stamped: "Made in the U.K." That went for music rags, too. And so about once monthly, with a promise I'd be back before dark, I'd hop the train into the city and hit the newsstands that carried Smash Hits and Melody Maker—then bum around the Village thinking myself cooler than my junior-high brethren who were content to meander the food court at Mid-Island Mall and peruse the Members Only jacket selection at Merry-Go-Round.
This particular Saturday is sacrosanct, memory-etched. Me: age 12, in raging preadolescent love with Simon Le Bon and salivating for the perceived glamour of true teendom. I am wearing a faded, tragically hacked olive green sweatshirt; a dense, spiky urchin of dark hair exploding from beneath the old grey fedora I'd bought at Andy's Chee-Pees. I have too much copper dust on my eyes and too much candy-pink lacquer on my lips and am cantering east on Houston Street toward Bowery in purposefully mismatched Converse All-Stars with my city-dwelling camp friend, Nicole, singing Adam Ant's "Stand and Deliver" when I see it—a vast, vibrant, kinetic mural lighting up an otherwise unremarkable and relatively seedy downtown street corner with bold color, smiling three-eyed faces and dancing figures that were somehow modern and primitive at the same time.
That was it: My Keith Haring moment.
I am neither a visual artist nor exceptionally knowledgeable where art is concerned, but I'm a New Yorker who came of age in the 1980s, and Haring's imagery—whether whimsical or political, cartoonish or explicit (often a potent combination)—was indelible to both the city and the decade. It spoke to me. His was the art that whet my appetite. He made it tangible, even to me, an MTV-fed preteen girl from the suburbs.
And while it was precisely that accessibility that made him something of a pariah within New York's art aristocracy (critics slammed him for lending his images to commercial items like Swatch watches and opening his famed and very successful Pop Shop), it was his goal from the time he began drawing his signature chalk figures in the subway. He wanted his work to be available, to be affordable. To anyone.
Haring was from the burbs too, actually, a native of Pennsylvania. And when he died, already an icon at the tender age of 31, from complications stemming from AIDS—a disease that came of age right alongside me—he left a legacy not only of brilliant works in sculpture and paint, but brilliant works in the hospitals, orphanages and inner-city schools where he gave children from around the world the gifts of art and self-worth in equal measure, but one of resolute strength, creating a foundation that would continue to serve the AIDS community long after he was gone. And so it has.
Haring: Light & Dark
Julia Gruen, now executive director of the Keith Haring Foundation, says the man she first began working for in 1984 was overflowing with optimism, light, humor and joy. "His studio was energized by his own presence," she says, "but also by the stream of visitors: friends, family, fans, artists, art dealers, collectors, kids—it was a place of welcome and community … Keith was a gregarious and intensely generous creature."
Haring's work often carried social messages and he donated much of his time to various children's charities during his brief and explosive career. "Keith became active in the AIDS/HIV community before his own diagnosis," says Gruen. "As early as 1985, he raised awareness through his outspokenness about the disease."
By the time Haring discovered he was HIV-positive in 1988, he had lost many friends and lovers to the disease. "He also lost two other very important figures in his life," Gruen explains, "[artist] Jean-Michel Basquiat to a drug overdose and Andy Warhol to complications following minor surgery." Another intimate friend would die in a car accident the following year. Death was all around him.
Not surprisingly, Gruen recalls, his imagery became somewhat darker. "He had always explored dark subjects in his work, but these surfaced more often in the works he created during the last two years of his life. He also placed even more emphasis on using his art to inspire hope and raise awareness."
His outlook, she says, became less optimistic. "Not due to any self-pity," she is careful to note, "as much as due to the poisonous, fearful attitude toward HIV/AIDS in the 1980s, the terrible prejudices and demonization of the gay community in particular, and the futility of all available treatments … and when he went public with his diagnosis (in an interview with Rolling Stone magazine) in 1989, he experienced firsthand the mixed reactions that such an admission brings."
Enduring Activism
That same year, he established the Keith Haring Foundation, which provides funding and imagery to AIDS organizations and children's programs, and continues to expand the audience for his work through exhibitions, publications and the licensing of his images.
"In 2010, twenty years after Keith's death, I think we all feel saddened that while AIDS/HIV treatments can now dramatically improve the lives of people with AIDS, there is still no cure," says Gruen. She believes that Haring would have been as involved as his foundation is today in the continuing fight to raise awareness and provide funding for treatment, education and research.
This year alone, the Keith Haring Foundation has made significant donations to Gay Men's Health Crisis and the AIDS Service Center of New York. "Both organizations have paid tribute to the memory of Keith's activism and generosity by incorporating his name—GMHC's Keith Haring Food Pantry Program and the Keith Haring ASC Harlem Center."
Foundation staffers, Gruen adds, are grateful that in each of the above cases, they have been able to find different ways of using Keith's art as part of the support they've provided.
"No matter how long you work," Haring said in his 1989 RS interview, "…there's always going to be things left undone. And it wouldn't matter if you lived until you were 75. There would still be new ideas. There would still be things that you wished you would have accomplished … Part of the reason that I'm not having trouble facing the reality of death is that it's not a limitation, in a way. It could have happened any time, and it is going to happen sometime. If you live your life according to that, death is irrelevant."
Took a spin around eBay today and discovered up for auction were several of those little plastic Swatch watches Haring took such a critical beating for. Ranging in price from $189 to $750, each had at least four bids. Fame and ultimately his passing made his work—even the most plastic and mass-produced of it—rare and more expensive, but the public at large still has a healthy appetite for Keith Haring. And his activism and forethought has permitted his generosity to endure along with his artistry. His works, visual and philanthropic, continue to delight, to bring awareness, to make a difference.
Haring in Harlem

Renaissance for The ASC Harlem Center

"It is a bit of a hokey idea," muses Edward Eglin, "but we wanted to create the sense that the Center's clients are literally embraced by Keith's art and spirit." Eglin's architectural firm, ESE Design, was called upon for the recent renovation to the newly-renamed Keith Haring ASC Harlem Center, a project which began, simply enough, with a grant from the Keith Haring Foundation for what are considered basic needs—things like food, clothing and transportation assistance to people who are living with HIV and those at-risk."The goal," says ASCNYC Executive Director Sharen Duke, "is to address people's immediate needs, to create a feeling of safety, and give people something tangible—creating the relationship and paving the way for further conversations about HIV prevention, testing and connection to care."

The center, essentially two railroad-flat apartments on the first floor, was in dire need of renovation to optimize the space. Duke didn't believe it would take a huge budget to give the organization huge impact—and the initial capital grant blossomed into a naming opportunity. Eglin, who had done work for Duke years earlier on a home-based project, was brought in for the job precisely for that reason: to create a sense of "home" for clients. Eglin and staff were particularly inspired by Haring's works in public spaces. "There is a real generosity in that [Haring's] work and the process, the physical activity of making the work, was for all types of people to see and experience, not just the elite," says Eglin. "The 'ownership' of the art was public rather than private. In that spirit we tried to design the Center so it would have a real visual presence in the streetscape."

The power art gives individuals to express themselves creatively, to be heard and to be valued, is something with which Duke is familiar. For the last decade, ASC has held a Creative Writing Workshop where clients write, read, discuss and publish poetry. Duke has seen its merits first-hand, though she received push-back at the program's inception. "What does poetry have to do with HIV prevention?" she would be asked. Duke believes it's about the entire person, "[Clients] having an opportunity to express feelings around the stigma, being gay, addiction issues, re-entry into the community following incarceration…"

A favorite anecdote she shares is of a client named Luther, who came to her office one morning with a gift: a poem on a pink sheet of paper that had been laminated. "He said, 'I wrote this poem for you. I had two bucks in my pocket and thought, Do I get a beer, or do I laminate my poem and give it to Sharen? So, I laminated the poem, and here it is.' He had a sense of pride in what he had written and wanted to give back. And it was because he had this safe place to come and an environment where he could express himself and be appreciated."

Haring's art embraces both the importance of the individual, as well as the individual's role in the fabric of the community. "Pattern-like, plane-filling works, some of which include repetitive figures which combine to make an overall pattern … [the role is] both supporting and supported at the same time." Eglin immediately recognized it as a metaphor for the ASC. As things moved forward, Eglin found the artist's spirit permeating the process in ways he didn't predict. "I was continually amazed by what he meant to so many people," he says. "People donated their time, energy, effort and skills to help the project. It showed me how strong his legacy still is."
Photo courtesy of © Keith Haring Foundation Used by Permission