Los Angeles Times - February 9, 2003
Embracing Relaxation on Key Largo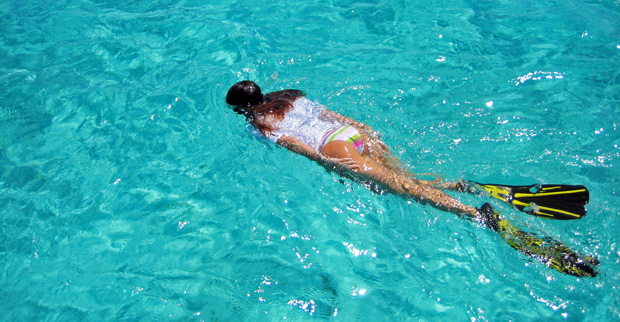 Splendid sunsets — and diving amid the only living coral reef in the continental United States — lure the laid-back to the closest-in of the Florida Keys.
The palms grow shorter and scrubbier as we slice through Florida's low country, whizzing past citrus groves and palm farms where conveniently overlooked illegal immigrants earn their keep. We stop and go at the traffic lights of Homestead, cruising due south toward the Keys, the barrier- island necklace that spins off the southern tip of the state.
Billboards proclaiming the "Best Deals on Scuba Gear" grow fewer, and dwellings devolve from luxurious new construction to modest '70s ranches to bait shacks. The landscape morphs into dense, tangly mangroves, the kind New Jersey mobsters would envy and Miami's drug traders know well.
It's two lanes most of the way to Key Largo on this section of U.S. 1, known locally as the 17-mile stretch, leading from Florida City to Key Largo. It has a mostly no-passing policy. Signs plead for driver patience — "Only two minutes to the passing zone" — but we're in no hurry. The heart slows. The October air is heavy and primordial. I roll down the windows and open the sunroof.
Ahead lush and lazy Key Largo awaits, an enticing oxymoron like Key West, its famous sister down the road — simultaneously commercial and quaint. The first and longest in the 110-mile-long island chain that makes up the Florida Keys, Largo is an appealing and closer lost-weekend alternative to Key West.
My husband, Craig, and I have lived in Miami for a couple of years now, native New Yorkers trying to adapt from an urban lifestyle to one of urban sprawl. With Key Largo only 55 miles from home, frequent visits there — long weekends, longer vacations, sometimes a sunset supper on a Friday after work — have made the transition more bearable. In Largo, with its fresh air, fresher grouper and 70-degree winter temperatures, we are less homesick.
Though the Keys remained largely undeveloped until the middle of the 20th century, Key Largo has a colorful legacy that the island's 11,000-plus residents trade on. The original inhabitants of Cayo Largo — named by Spanish explorers in the 1500s — were the Calusas.
Three hundred years later, as shipping traffic grew along the Eastern seaboard, vessels often clashed violently with the area's treacherous coral shallows. By the middle of the 19th century, Key Largo averaged a shipwreck a week. The Native Americans were the first to benefit from the mariners' misfortune, paddling out to scavenge sunken booty. Largo's salvage industry was lucrative until someone figured out he could mark the reefs to avoid mishaps.
Then, in the 1860s, one shrewd wrecker planted a crop of pineapples and enjoyed the spoils. His success attracted others, and for the next four decades, acres of native hardwood trees were cleared for plantations. Profits, however, depended heavily on favorable sailing conditions to get the cargo north before it rotted. In 1906 a hurricane decimated the crop, and blight followed the storm. The one-two punch sealed the coffin on agriculture.
These days it's all about tourism in Key Largo. About 350,000 baby-oiled foreign and domestic visitors annually visit the 30-mile-long island, creating a veritable slick over the coral that mariners once feared. Even then it never seems too crowded. Compared with the barely contained carnival atmosphere in Key West, Largo, even in peak winter season, feels more like Mayberry.
Despite the commercialism of U.S. 1, with its tourist shops, dive shops and fast-food joints, glimpses of old Florida can be found down the lanes leading off the highway — streets with names like Grouper Trail and Pirate's Drive.
On this visit, as on previous ones, Craig and I chose the comfy simplicity of the Bayside Resort, adjacent to Snook's Bayside Restaurant, to which I can walk barefoot in half a minute. The resort is not far from places that showcase the Keys' charming architecture, such as the Tarpon Flats Inn & Marina, built in a Caribbean Victorian style. Its large porches lower the blood pressure at first sight. Of course, nothing you'll find on land will relax you like what you'll encounter under the sea.
Many environmentalists will tell you that Key Largo's reefs are suffering, probably from the area's overdevelopment and careless divers. But when I'm diving amid the seemingly limitless marine life with no sound save that of my regulator, it's hard to believe the reefs are endangered. Anemones and urchins, smiling morays and ghostly stingrays, blossoming coral heads and a riot of fish populate my field of view like LSD flashbacks. Silvery barracuda, eyes blank and mouths agape with needles, trail me like curious curs.
Laws and restrictions are aiding the reef's slow recovery. Dive boats, for example, once permitted to drop anchor anywhere, now must be tied to floating moorings to keep anchors from damaging the coral.
If local sea life is fascinating, so are the land dwellers. Florida residents, particularly those in the Keys, are a mixed bag. Blue-haired retirees mingle readily with tanned young restaurant workers. They talk fish with leathery natives and blue-collar emigres from the mainland. Moneyed Democrats from Boca Raton and Palm Beach drink rumrunners and cheerily argue politics with their Republican counterparts from Miami at the same bar.
You know the one, with plastic fish, buoys and crab traps suspended from the ceiling in fish netting. There are hundreds like them here. A lot of the casual taverns in the Keys, however, also offer astonishing sunset views. Combine this, as we did, with the day's libation and the strains of a ubiquitous local guitar-slinger covering Jimmy Buffett tunes till the wee hours, and it's easy to see why so many passers-through end up sticking around.
Our Friday evening began on the island's expansive waterfront, at Sundowners. Overlooking Florida Bay, it is one of several ideal perches for watching the nightly light show. Sunset is a big deal around here. At Sundowners locals get loud at the outdoor bar, and tourists gather on the patio's perimeter in anticipation of the spectacular sunsets they can't see in their hometowns.
I relaxed with a translucent pink potion called Swedish Lemonade. They're deceptively tame to the taste, but after a couple I gave up trying to decipher the Scandinavian connection.
In the shade of a canopy, a one-man band named Gerry Coe adeptly provided the evening's entertainment, offering up a roster of predictable selections well matched to the locale: Buffett and Bob Marley with salty maritime selections rounding out the sets. By lemonade No. 3, I was happily singing along to "Brandy," half lost in the idea of living out my days here, watching the sun set nightly from a houseboat. Gerry took a few more requests, but we left soon after because I had planned a half-day snorkel trip in the morning.
Early the next day we headed to Ganim's, where for a few dollars the Kountry Breakfasts can't be beat: eggs, toast, hash browns and any meat you'd care for, from corned beef hash to chicken-fried steak. Waffles, pancakes, omelets and the like round out the menu.
Super, natural underwater
Divers often describe the underwater experience almost anywhere as spiritual, but few places fit the bill as literally as Dry Rocks in John Pennekamp Coral Reef State Park. Established in 1963, Pennekamp, along with the neighboring Florida Keys national marine sanctuary, protects 178 nautical square miles of the only living reef in the continental United States. Calm, clear and just 25 feet deep, Dry Rocks is home to myriad coral, fish and, most notably, "Christ of the Abyss."
Eerie and imposing, the 9-foot bronze Jesus, his arms stretched heavenward, towers amid teeming marine life. The piece, placed in the 1960s, is a cast of Italian sculptor Guido Galletti's "Cristo degli Abissi," located in the waters off Genoa, Italy. The 4,000-pound icon has made Dry Rocks one of the most popular snorkeling locations in the park — for the living and the dead. It's a hip setting for underwater nuptials and at-sea memorials.
Although feeding the fish is officially frowned upon here, the practice has made the creatures bold. Divers and snorkelers are often rewarded with close encounters. As I hovered above the coral heads, Christ delivered me an epiphany in a cloud of sergeant majors, their delicate fins caressing me like a thousand angel wings. But noting my lack of food, they quickly departed in a glinting flourish of black and gold.
For those who prefer to keep their distance from the fish, Pennekamp also rents powerboats and kayaks, which are superb for exploring the park's placid mangroves. The park is also home to the Spirit of Pennekamp — a 65-foot glass-bottom catamaran that affords stunning reef views from the comfort of a dry cabin. There are several beaches in the park, all calm and suitable for snorkeling, but they are modest strands compared with those found in Miami or Malibu, fringed by mangroves and more like "Gilligan's Island" than the undulating dunes of "Baywatch."
Considering my love of the ocean and my genuine concern for its inhabitants, my willingness to eat so many of them astounds me. But guilt quickly dissolved as we pulled into the gravelly lot of the Fish House, where virtually anything I ordered at dinner was probably swimming nearby a few hours before.
This restaurant and fish market — cheery and swathed in the aforementioned nautical decor — just might serve the best seafood anywhere. An extensive menu touts local catches: yellowtail, snapper, mahi-mahi, ling and Florida lobster, all prepared in generous portions and served by an affable staff. Our catch that evening included blue crab cakes; oysters on the half-shell; a white and flaky sauteed grouper served with corn, coleslaw and red potatoes; and a hefty slab of Key lime pie.
Dinner often means a wait. But wander across the lot to the Gift House, where, on crowded evenings, they'll let you sample the restaurant's homemade smoked fish dip while you browse amid the trinkets. Much of the merchandise here, mostly home furnishings and jewelry with a liberal dose of souvenir-stand fare, is crafted by local artists.
Indeed, the Florida Keys are a beacon for the arty. There are galleries and shops peppered throughout the islands, from Largo to Key West.
Art and artifice
It's an easy drive down U.S. 1 to Treasure Village on nearby Islamorada, so on Day Two I left Craig behind and headed out early to browse this small fort of boutiques. The mall, which was built in the guise of a Spanish-style citadel, features an interesting collection of shops and eateries. The 35-foot lobster towering out front makes a great kitsch photo op.
Don't miss Blue Water Potters for beautiful and largely functional works in clay. The proprietors' wheel, which is often in use, sits in the middle of the shop and provides a fascinating show.
Several hours and pieces of pottery later, shopping had worked up my appetite for lunch, so I decided to forgo fancy fare for some grub at the Crack'd Conch, a family-run and friendly overgrown shack that has a scrumptious selection of home-cooked seafood, booths you can sink into and an impressive beer selection. This is the place to learn what South Floridians already know: Conch (pronounced konk) is tasty when breaded and deep-fried. Besides the savory sea snail, the Conch's samplers will give you a taste of other local delicacies, and more atmosphere than most martini bars, all at a reasonable price.
By the time I left, the sun was almost ready for another swan dive, and it was time to jockey for viewing position. At a local watering hole, the Caribbean Club, I didn't have to stake a claim to a spot. The locals here may look gruff, but they're gracious. One such ambassador, smiling behind an unruly salt-and-pepper beard, offered me his seat, along with a host of trivia about the place.
Immediately noticeable was the club's impressive collection of Bogie and Bacall memorabilia. This was a location for the 1948 film classic "Key Largo." And nearby is another piece relevant to Humphrey Bogart fans: The "African Queen," the boat that carried Katharine Hepburn and Bogart through the dark continent in the 1951 film, is moored nearby at the Holiday Inn Marina. It's available for cruises.
As Buffett sang about boats, beer and women over the loudspeakers, and the sky turned as purple as the sunburned Canadians at a nearby table, we celebrated the sun's departure with another round of drinks. Tomorrow, our new friend promised, hoisting his beer like a sail, he'd catch the big one.