Interval World - Fall 2003
Miami: Moon Over It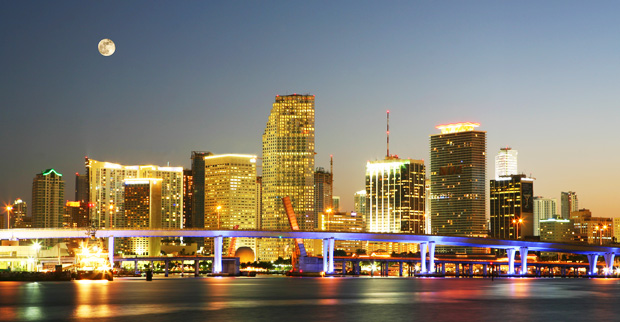 Beaches smeaches. Everyone knows Miami's got plenty, so how about a peek at a side of the city you don't often see? There's a lot more than the coast to boast about.
The Spa Who Loved Me
My husband is antsy. He is not, by anyone's standards, a "spa guy."
"I just don't know if I can lie there for that long," he relates.
I am moderately concerned, but I let it go. This is the world-class Spa at Doral. If he is to be won over, this is definitely the place.
We say our goodbyes atop the graceful arc of the staircase; we'll meet up later for our Couples Massage (50 minutes, $240). Meantime, I am escorted to the lockers and given a key. I change into my robe and slippers, make myself a complimentary apple-cranberry iced tea and ease into the surroundings of the lounge where several similarly clad women are sunk into the cushy couches, watching television, reading magazines or gazing absently into some alternate universe I can't see. They are post-massage. I recognize the blissful, blank expression. Soon, I think, giddy with anticipation, that will be me.
A short time later, we are escorted upstairs to a massage suite. The room is candlelit. Soothing Asian melodies pour into the space like warm sake. A pale pink rose tops each table. Barbara helps me to mine, and Pauline helps my husband and for about 25 minutes, our backs are methodically worked over. Knots are found and eradicated. Scented oil flows. I consider the possibility of giving our firstborn to Barbara.
We flip over for the resplendent second half – faces, necks and shoulders, legs, feet and hands. The speed of time miraculously doubles. Fifty minutes already? It's not possible. The therapists excuse themselves while we don our robes, waiting outside to escort us back. We take a minute or two before rising.
"Remember when I said I was worried I couldn't lie here that long?" he says softly, smiling. His eyes have yet to open. "Well, now I don't think I can get up."
With my husband appropriately tenderized and an hour before my scheduled Royal Pedicure (60 minutes, $65), I head to the steam room for 25 gloriously tranquil minutes. Classical music plays softly behind the sultry hiss of mist and I reflect on the massage experience. After a leisurely shower, I fix another tea and head to the salon.
Waiting for me: a cozy leather chair, a peppermint-scented hot tub for my feet, a warm wrap for my neck, and an hour of Cleopatra-level pampering. At the treatment's culmination, I am lathered in a tingly salve, feet bagged in plastic like spa evidence, lower legs swathed in soft towels while the cream works its magic. Eyes closed, merrily marinating, I begin conspiring my return. Mom's birthday is coming up, I remember. And nothing says you care like some mother-daughter time at the spa, right?
Wet
It has played home to graceful gondolas. Silver screen stars of yesteryear – Esther Williams, Johnny Weissmuller – swam stylishly in the shadow of its glamorous vine-laden loggias. Bathing beauties clustered on its palm-shaded island, cooling their feet in the spring-fed waters. Built in 1924 and restored in 1989, it is Coral Gables' most unique attraction: the 820,000-gallon Venetian Pool.
Today, more than 100,000 people visit the pool annually. Some just want to tour the grounds and marvel at its beauty – the Spanish fountain, three-story observation towers, coral rock caves and cascading waterfalls. Others want total immersion – and on a hot Miami afternoon, that's highly recommended. Bring your suit.
Wild
From the spiky green skin of Asia's sweet oddity – the jackfruit – to the fiery blossoms of the bizarre heliconia, Fairchild Tropical Gardens' far reaching collection of international flora could hold even the most horticulturally challenged visitor rapt with interest.
Since 1938, the gardens have charmed and fascinated guests and its collection of palms, flowering trees, vines, fruits and more continues to grow within the 83-acre park, which offers hourly guided tram tours around the property. Soft stretches of grass near the ponds make a great place for a picnic or to spot some of the large green iguanas that call the grounds home.
Among the numerous collections, displays and exhibits is "Windows to the Tropics," a two-level 16,428-square-foot conservatory featuring some 1,900 species of plants, including bromeliads, ferns, orchids and more. The "Keys Coastal Habitat" is lush with native species that attract birds and other local wildlife.
…And Just Plain Weird
Jilted on the eve of his wedding by the young girl he'd forever dub his "Sweet Sixteen," 26-year-old Ed Leedskalnin left his home in Latvia in search of a new life. He found it in South Florida in 1918 and began work on a bewildering and beautiful masterpiece, Coral Castle – a mystifying roadside attraction that's had engineer's scratching their heads for more than 60 years.
Ed (who stood about five feet tall and weighed 100 pounds soaking wet) carved his stronghold for over two decades from more than 1,100 tons of solid coral rock that he excavated himself. To this day, no one is certain how. Unbelievably, the quirky compound, which lies behind massive eight-foot walls, has been compared to Stonehenge and the Great Pyramids – impressive for a man with a fourth-grade education.
He worked mostly by night – always alone – and claimed that he'd mastered an ability to redirect the forces of gravity, using little more than some primitive tools and pulleys (some of which are on display) to carve the stone into shapes (chairs, a towering obelisk, a 30-ton telescope trained accurately on Polaris and a working sundial among them) and lift them into place.
Ed took his secrets to the grave in 1951 (he was 64), but left a legacy of wonder in his wake. Sadly, about the only person unimpressed with Coral Castle was Agnes – Ed's beloved "Sweet Sixteen" – who was invited to see his romantic tribute several times, but chose never to visit.
Eat It Up
Miami es muy internacional, and so finding great restaurants is child's play – from the neon glow of South Beach to the farthest reaches of suburban Kendall. Which you'll like best is relative, so we'll throw you a few interesting choices based on other criteria.
The Rusty Pelican – Viewmaster
The food here is pretty good, but what makes the Rusty Pelican a front-runner is its view. A Key Biscayne location leaves it poised for romance, fun and some of the best skyline photo-ops Miami has to offer. It's a rare sunset treat in an East Coast city, as well; an al fresco perch at one of the stone fire pits will point you west to watch the sky fade to midnight as the downtown architecture ignites. The Pelican's Sunday brunch is popular (make reservations), too. Diners gorge themselves with the standard fare while watching kayakers and boaters enjoying a day on the bay.
Tobacco Road – Booze & Blues
This illustrious tavern holds the oldest liquor license in the county, and despite its hard life as a speakeasy, gambling hall and general den of iniquity, Tobacco Road has managed to endure. In the '80s, it was given a new identity, and while it's become a popular hangout for the Brickell yuppies, it remains a respected institution for blues and rock. Live music virtually every night, a gritty-but-welcoming atmosphere and surprisingly good food help make the Road an eclectic stop on your to-do list.
The Biltmore Hotel – It's the Brunchiest
If Coral Gables' imperial opulence suggests the need for a castle, the Biltmore Hotel fits the bill nicely. This historic property has long catered to the elite and its Sunday brunch accommodates all diners thusly. Sit in the Courtyard encircled by gargantuan buffets – iced shrimp and crab claws; manned omelet, pasta, sushi and sundae bars; and a host of other goodies from apple blintzes to lox and cream cheese – and your delicate mimosa glass will be well attended. This has got to be the most sumptuous, leisurely and elegant brunch in town.
Versailles – We Ain't Talkin' France
It's easier to find Cuban food in Miami than it is to get sunburned, and though coffee stands are everywhere, it seems none of them lack for business. Around the clock, people stop in for a quick café Cubano – the strong, sweet elixir of the caffeine gods – and a little conversation. Versailles, however, is a Little Havana institution on Calle Ocho (that's 8th Street for gringos) and a must for quick, cheap eats and unparalleled people-watching. The décor is over-the-top French kitsch, but the vibe is 100 percent Cuban. They open early, they close late and the food is dangerous for dieters (carb-watchers beware) – but it is top of the line for an authentic Miami experience.