New Floridian - July 2006
The River Mild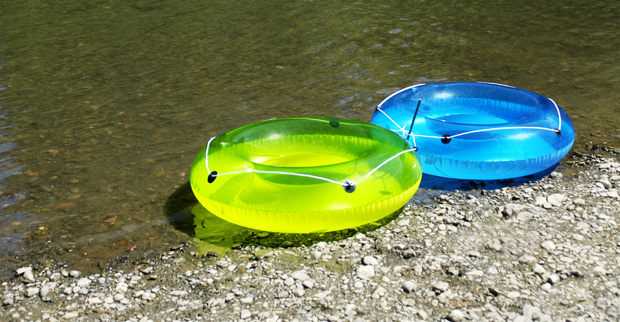 On Tuesday morning most of the world is at work, and I'm no exception.
Seated on the edge of a limestone shelf at Kelly Park in Apopka, I dangle my legs about six feet above a sand-and-stone creek bed. Crystalline water boils audibly from a half-submerged cave, a gaping mouth lushly bearded with emerald ferns and verdant subtropical foliage that ascend a dramatic 15-foot outcropping.
Alone for the moment in this primordial grotto, I watch forest-filtered sunlight dance on the dragonflies that dart and hover above rippling turquoise water; I watch the fish – tiny hatchlings schooling in small, safe fractures and impressive specimens investigating my vivid pink pedicure.
Like the fish, I am curious, so I slip on my mask and join them. About 10 feet upstream, I check out the creek bottom in a living aquarium where a fissure feeds the headwaters from below, helping to create the lazy current that so many of the park's visitors enjoy from their floats and inner tubes. Today, this Eden is my office, its transparent waters cool and invigorating.
There are occasional days when I, like many people, question my career choice. Today is not one of them.
The average flow at the source of Rock Springs Run is 26,000 gallons per minute, which sounds daunting, but that's hardly the case. If you set it to music, it would be far more Bob Marley than Marilyn Manson, an easy three-quarter-mile float that takes roughly half an hour – if you don't stop along the way. But with so many picturesque shallow points at which to take in the scenery, splash your companions, observe creek wildlife and sunbathe, you're unlikely to make this a point-A-to-B journey. At least, not on your first trip downstream.
The only remotely intimidating aspect is the first plunge into the 68-degree headwaters. With Central Florida temperatures climbing into the high, humid 90s, however, and woodland mosquitoes on the prowl, the prospect becomes considerably more inviting.
Kelly Park's 355 acres were donated to Orange County for public use in 1927 by Dr. Howard Atwood Kelly, a renowned Baltimore surgeon and cofounder of Johns Hopkins Hospital and Medical School. Overnight camping (on 26 sites) is popular and many daytime visitors rent pavilions for cookouts around the "pool area," which was created by diverting some of the spring flow into a manmade swimming hole with retaining walls and a weir (small overflow dam) to maintain its depth.
Four bridges at various points along the creek lead to two miles of trails. I skirt the lagoon in favor of the canopy shade, where blue blazes and a myriad of native butterflies guide me through The Boils (an environmentally sensitive area) and down a path to the headwaters. Boardwalks crisscross the woods on the opposite side of the stream, which makes it easier to tote cumbersome floats to easy put-in points along the bed – or reach restrooms or concessions.
This is a magnificent respite from the summer heat and a nice alternative to the beach, with the one caveat that often spoils the best of natural settings: Beware the loud crowds. The park's smaller size warrants limited capacity, and on the hottest of days rangers often turn visitors away. If possible, arrive early and on a weekday, when attendance is lower.