AMEX - Travel Insights - Summer 2005
Fashion's Artisans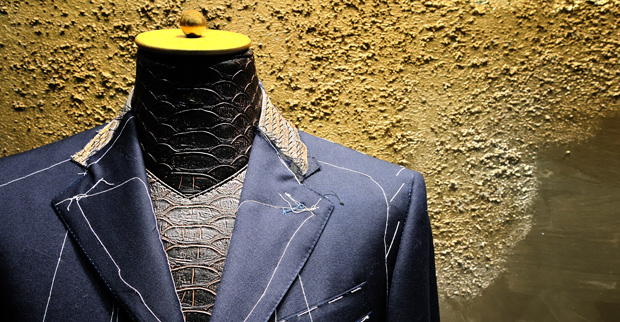 Two thousand years ago, when its empire stretched from Britain to Egypt, Rome was the capital of opulence—a place where the finest raw materials and the most talented craftsmen came together to create the world's most sought-after luxury goods. Today, the world still looks to the Romans for premier ateliers, from fine art to fine food to—most especially—fine fashion and accessories.
Rome's gifted tailors have been dressing the city's upscale residents and visitors for centuries, and the tradition has not faded. The city's small, client-oriented boutiques, many of them owned and operated for generations by the same family, still create custom garments using timeless techniques. The boutiques most worth visiting may be the least well-known to those who do not live in Rome, according to Petulia Melideo, a native Roman whose family have participated in textiles and fashion for generations.
"Most fashion artisans' shops are in lesser-known parts of the city away from the tourist sites," says Melideo. "They don't usually have a sign on the door, and few are listed in the phone book, let alone on the Internet!"
Sirni Pelleteria, at its current location since 1950, provides an excellent example of the family-run bespoke fashion tradition in Rome, according to Melideo. Brother and sister Andrea and Rita Sirni create custom leather accessories at Sirni Pelleteria just the way their father taught them (and his father taught him). Rosanna Sirni, their mother, still follows each item's progress from the time a client chooses the leather and colour of the piece to the moment she adds its finishing touches. Handmade bags here range from approximately €280 to €1,000.
Lovers of hats and history should consider a visit to another venerable Rome institution. Still in its original 1936 location, with furniture and equipment intact from the days when the Cirri family created beautiful hats for the men, women and children of Rome, Antica Manifattura Cappelli is an old Roman favourite operating under a new name and now run by the family Fabri. The shop could be considered something of a fashion museum, except that it is still in active operation today, specializing in "single piece" creations and still practicing many of the traditional hat-making methods.
Another notable Roman artisan is master shirt-maker Mimmo Siviglia, who began his work at the ripe age of five, observing master tailors at work in his native Calabria. "He worked with Armani before anyone had ever heard of Armani," says Danielle Pollack, who works with Melideo, "and his distinctive pieces have appeared in Men's Wear, Harper's Bazaar and Vogue for Men." Despite the lavish praise he has received within the fashion universe, Siviglia remains most interested in catering to individual clients in a highly personalised manner. For first-time clients, the minimum order is three custom shirts, with prices beginning at €100 for each.
For more information on specialised fashion tours, contact Centurion Concierge.
Sirni Pelleteria
Via della Stelletta 33
+39 06 68805248
Antica Manifattura Cappelli
di Patrizia ad Piercarlo Fabri
via degli Scipioni 46
+39 06 39725679
Mimmo Siviglia
Via Urbana 14a
+39 06 48903310