USA TODAY - September 2013
Scared to Death in Orlando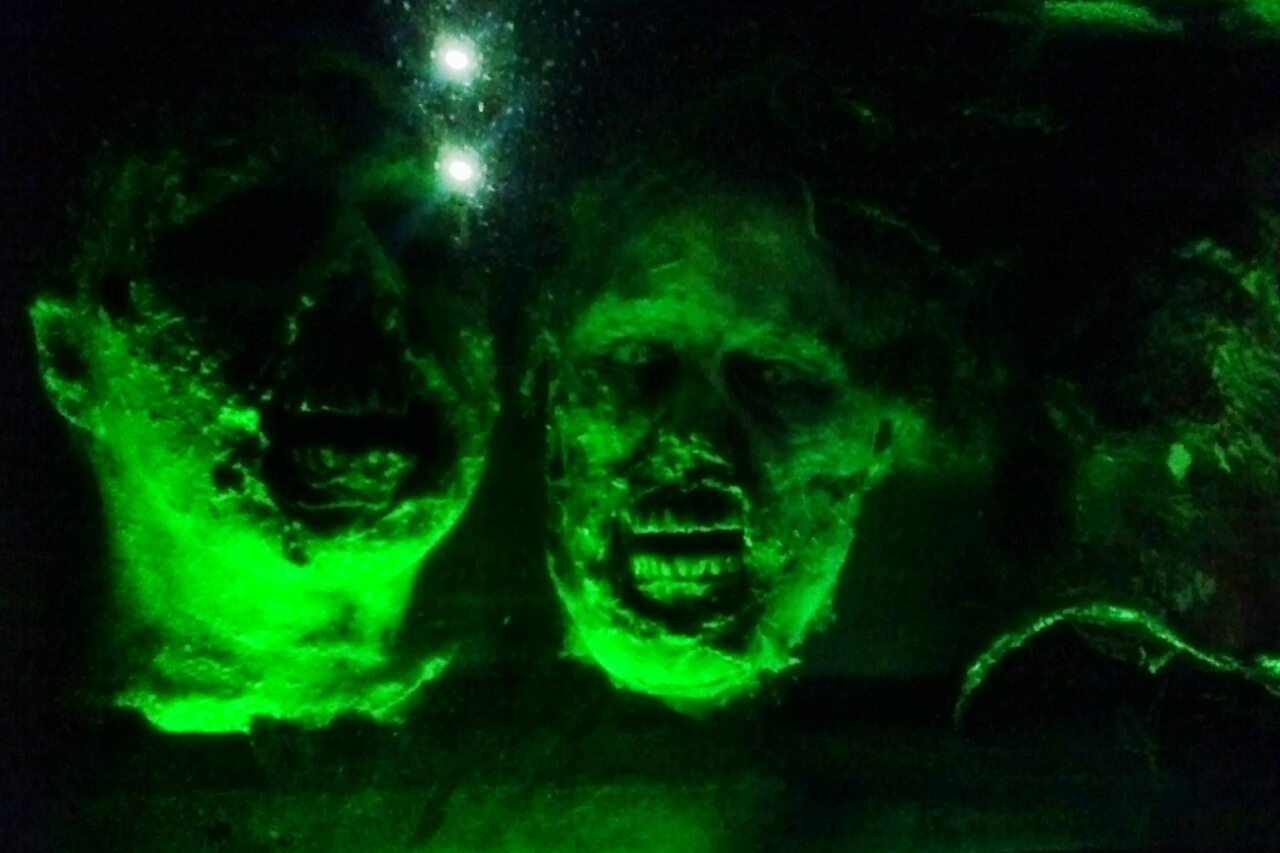 Killer clowns. Murderous dolls. The psychedelic boat ride in Willy Wonka and the Chocolate Factory where the chicken gets decapitated. What's the common thread? They are terrifying mutations of the safe and sane, horrors borne of happy places.
And so why shouldn't family-friendly Orlando – perennial city of sugar and "mice" and everything nice – have a deliciously demented dark side to share come Halloween? Don't make the fatal mistake of so many B-movie hitchhikers and judge this charming book by its cover. Orlando can scare you to death.
'Behind the Screams' at Halloween Horror Nights
For Halloween aficionados worldwide, the Universal Orlando event called Halloween Horror Nights, now entering its 23rd year, needs no introduction. But that wasn't always the case. It premiered in 1991 as "Fright Nights," a three-day event with a modest $19 admission fee. Since then, it has grown, Blob-like, into a Halloween monster that swallows Universal Studios near nightly for an entire month. Known internationally for world-class haunted houses, some themed on zillion-dollar movie, television and gaming franchises, others culled from urban legend and the sick, steel-trap minds of its design team, the Orlando event draws visitors by the thousands – this year from Sept. 20 to Nov 2.
"It's the best Halloween event because of the grand scale it takes," says T.J. Mannarino, Director of Arts & Design for Universal Orlando's Entertainment Division and 18-year Halloween Horror Nights (HHN) veteran. "When first-time guests come out … it really overwhelms. It just knocks them over."
His design team's perspective is that Halloween Horror Nights is an extension of Universal's long and lauded history of monster-making. "We want to continue that heritage and our audience expects it of us," says Mannarino. "From doing unbelievable characters that nobody's ever seen to film-quality-detailed sets: this is why people search us out and when they experience it, there's no comparison to others."
A legion of performers Mannarino calls HHN's "biggest and best element in scaring the audience" populate the houses and streets of Universal Studios nightly. Empty coasters run ominously dark, and a moment spent marveling over the park's transformation from Truman Show to Twilight Zone can be shattered in an instant . . . by a maniac with a chainsaw.
For those intrigued by the mind-boggling transformation process, Universal runs add-on tours that go beneath, behind and beyond the front-of-the-house experience, showcasing what it takes to put together a Halloween event worthy of six consecutive Golden Ticket Awards.
RIP Tours, the "Halloween Horror" version of the park's popular VIP Tours, are offered privately (from $1,250) or non-privately (from $109). VIP guests go on a guided walking tour of an HHN events night, and their experience includes all the haunted houses and reserved seating at the Bill & Ted's Excellent Halloween Adventure show, as well as extras like RIP Lounge access (cash bar on-site) and complimentary valet parking.
But Behind the Screams tours go deeper – well beneath the creaky bedsprings – to expose the shadowy places where monsters lurk. "People are just as intrigued by the behind-the-scenes aspects as the conventional experience – how it all comes together, the technology, the specifics, the time it takes to make it," Mannarino explains. "It was a natural step to offer the audience a little more insight into what it takes to create an event like this because it is so unique and big."
Unmasking the Horror ($59.99) flips the lights on, literally, allowing participants to take part in a guided daytime walking tour of three HHN haunted houses (six if you combine morning and afternoon journeys). "It's very successful," says Mannarino. "People are just amazed in looking at every corner of every room and how they are detailed to the hundredth degree. You don't see half of that when you walk through at night because the lights are positioned precisely not to show it."
Interestingly, he notes, some guests employ the tour as a primer; seeing the house lit up, sans scare-actors, doesn't make it seem as intimidating. Others come not for the scare, but because they're interested in set design.
"We've found that for some, the tours become an educational tool. I've been approached by many students and parents of people in high school who see it as a potential career. They want to know what we do, what it takes, about the process, the business, and all the people it takes to do it."
They walk away happy. In fact, on Arcane Insights ($239.99), a tour now in its third season, guests spend up to six hours amid the brain-folds of actual HHN designers on a structured walking tour of one event night. Mannarino has even led it himself. "We walk with you through all the haunted houses and tell you the stories," he says, "as you experience it, as you see it happening. And we're there to answer questions when you come out."
Additionally, Arcane guests have access to staging areas. They'll see how performers are costumed, made up, transformed into character with military precision. "The first year, we weren't sure there was going to be an audience interested in that much detail." Mannarino counts himself among those most surprised by its success. "The second year, we had some of the same people returning to do it again! It definitely satisfies the audience member who has that hunger, that interest, that excitement to delve deep into the content, its intricacies and the hidden parts of the creative process."
Amid other forms of entertainment design, Mannarino has learned that haunted houses are their own animal – and doubtless the most interactive. "Your performers, your lighting, your sound, it all works with a live audience that is right in the middle of the action," he explains. Over 23 seasons and more than 170 houses in, he believes they've perfected it quite well. "The bonus is that we change it every year," he says, "so we get to learn something new."
And on Behind the Screams tours, so, too, do the guests.
Movie house of horror
Suspense and horror films have been stoking our fires for the macabre for decades, so it's little wonder that Orlando's most unique cinema – the beautiful Enzian Theater – showcases the genre throughout October. This year's "13 Films of Halloween" includes traditional and cult classics along with modern cinematic opuses of horror. Perhaps best of all, it culminates with a Halloween Costume Party at month's end.
Most notably, the Enzian's regular Wednesday Night Pitcher Shows are free events. Bring your blanket and enjoy a flick under the stars where the gnarled limbs of the property's massive live oaks take on a wonderfully sinister aura amid the projector's eerie flicker. Grab refreshments at the on-site Eden Bar, a festive outdoor enclave adjacent to both actual and open-air cinemas, and bring your nerdy knowledge for show time trivia. Answer correctly and an oozy, boozy Jell-O shot is yours. Happy hour runs from 7:00 – 11:00 p.m.; movies start at 8.
This month's selections: the original British version of Tales from the Crypt, 1974 parental nightmare It's Alive, phobia-feeding cult fave Killer Klowns from Outer Space, Dario Argento's Italian masterpiece Suspiria and 2004's Saw that begat the thus-far-seven-film franchise.
Additionally, you can catch a free, al fresco showing of the 1959 Vincent Price classic, House on Haunted Hill, at Winter Park's Central Park on Thursday, Oct. 10. Bring a blanket and get into the evil spirit of the season.
Like your cinema with a bit of edgy history? Enzian offers $5 Cult Classics twice monthly; October's no exception. Catch the infamously itchy Arachnophobia and the 1956 original Invasion of the Body Snatchers, a wonderful, low-budget suspense thriller that spawned the 1978 remake with Donald Sutherland and Jeff Goldblum.
But truly, what more effectively masticates the sugary bubble gum of cinematic horror than the midnight showing? To its credit, the Enzian gets it, and Midnight Madness abounds. On tap, a new 35mm print of David Lynch's classic Eraserhead, Ridley Scott's chest-burstingly brilliant Alien, and the second in Sam Raimi's beloved Evil Dead trilogy on Oct. 26 – which just happens to be Halloween party night!
This no-cover event (21 and over, please) runs from 9 p.m. to 2 a.m. at the Eden Bar. Buy tickets to catch Evil Dead II at midnight or spend the whole evening at the soiree. Clandestine judges will be moving among the throngs and announcing best-costume winners at the witching hour. Meanwhile, hang out on the lawn where the big screen will be showing muted horror films, grab some themed eats and drinks and dance with the costumed revelers. The DJ spins all night. Visit the Enzian website for full schedule.
A Petrified Forest
Whether you use Raimi's original Evil Dead as the example, or perhaps The Blair Witch Project, horror is a genre where small budget can lead to big success. Indie projects are propelled by their drivers' passion for the art and the storytelling. They find a way, deliver to the fans and legends are born.
So it goes with A Petrified Forest (select nights from Oct. 4 – Nov. 2), a homespun haunted maze that now, in its sixth official year, easily qualifies as one of Orlando's best-kept – and freakiest – Halloween secrets. Built lovingly each year by local hands in a shady swath of unkempt suburban woodlands that – brutally honest – would be terrifying to get lost in any time of year, the 85,000-square-foot labyrinth is populated by enthusiastic actors serving up a shockingly authentic experience. This year's theme: Museum of Mayhem.
The attraction, which mushroomed from humble beginnings as small backyard maze, is still essentially non-profit. "Its owner-operators now pay everyone who builds or works in the maze but ironically, don't make anything themselves," says Head of Marketing Nichole Scott. "[It all goes] to employees, building and marketing efforts. For them, it is a labor of love."
Local supporters say it shows. In this maze, there are no lines, no climate control, no exit doors. Only the crunch of real earth beneath your feet (wear closed-toe shoes!) and gleefully unpolished blood-spattered lunatics waiting to scare the expletive deleted out of you. Incoming victims are limited to groups of six ("…absolute max eight," says Scott), making the maze – amid the dark and the trees – seem infinite. It's not uncommon to spend 15 long minutes navigating its backwoods perils. There's no set path, no signs or characters to guide you. Guests must find their own way out.
A Petrified Forest's lower-budget charm, in fact, much like the like the very best 70s-era slasher flicks (i.e. Texas Chainsaw Massacre, in all its grainy, 16mm glory) is precisely what makes it such terrifying fun. It'd be awfully easy for some actual masked maniac to slip in among the actors, wouldn't it? Over the years, this event has grown into something of a party and now offers a Halloween festival, food, live bands, laser tag and more outside the scare trail.
And this year, its hosts have a fun, new way of handling the sometimes-long lines. "We're using a color-coded wristband system," Scott explains. "We'll call a given color when it's time to step in line. It will cut wait times dramatically and instead give guests a chance to check out the band or DJ and visit vendors."
Prices vary for combinations; check the website. The maze alone is a reasonable $15 for a holiday where entertainment costs easily add up. Select weekends throughout the Halloween season.
Spooky Empire
This unassuming little horror convention got its start in Fort Lauderdale a decade ago with 1,000 devoted attendees. Last year's bash – since moved to Orlando where there's exponential room to grow – topped out at 13,000. This year's three-day fear fest (Oct. 25-27) has the DoubleTree by Hilton at Universal booked solid.
"Orlando makes a great destination because it's easy to reach," says Spooky Empire promoter Petey Mongelli. "We have many national and international attendees who plan their trips a year in advance around our convention. They come to our show and hit Universal and the Disney parks all in the same trip."
Check Spooky Empire's website for overflow hotel information, but you don't have to stay to play. Advance tickets are available online; $50 for a three-day pass or $65 at the door. What does it get you? Access to celebrity guests culled from the hallowed halls of horror greats. Past guests include genre A-listers like Robert Englund, David Arquette, Malcolm MacDowell, Bruce Campbell and Linda Blair and in the year of Michael Jackson's passing, Thriller director John Landis led the insanely popular Zombie Walk that kicks off the event. There are even expert special-effects artists on-hand to help walkers get into character.
This year's celebrity cache includes a rare group appearance by the cast of the original Texas Chainsaw Massacre, stars of the old-school monster classic, The Creature from the Black Lagoon and horror icon and inarguable architect of the zombie phenomenon, George Romero. Not to mention dozens more from the realms of film, television and publishing who will happily sign autographs and take photos with fans.
Additionally, the horror-loving hordes disperse amid vendors and panel discussions, Q&As and performance events. Live bands, a Monster Museum, a hearse and car show and costume contest also draw raves. Conversely, the Freak Show Film Festival draws screams. Come evening, all walks of after-parties slake the thirst and bloodlust of the costumed masses.
"Halloween is the second most popular holiday next to Christmas," Mongelli points out. "People love being scared; they love the costumes, the movies. And horror has really merged into the mainstream …with hit TV shows like The Walking Dead and American Horror Story. All of it, he says, is attracting more and more people to the horror fan base and to this growing Orlando Halloween event.
Photo courtesy of Amy Drew Thompson (Author)